Image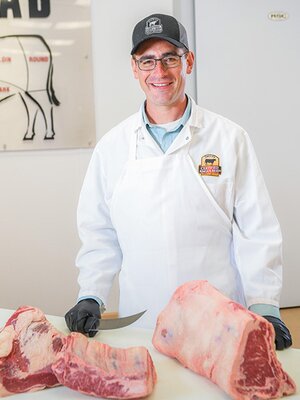 Meat Scientist, Certified Angus Beef
Salary Range
$56,000-75,000
Background
Daniel Clark grew up in a small town south of Champaign, raising and showing Angus Cattle for 4-H and FFA. He names his passion for showing cattle and the livestock industry as what pushed him to become a vet. Daniel went to community college first at Lakeland College and transferred to the University of Illinois. As an undergrad, he names two things that were the most influential to him in college, being a James Scholar and getting involved in undergraduate research. His undergraduate research was with vet med studying reproductive toxicology. He joined the meat judging team and realized that he did not want to be a vet anymore.
He turned his career toward meat science with more undergraduate research. Through meat judging, Daniel was able to travel to Australia to compete in the Australian International Competition. He was also able to study abroad in South Africa. Daniel decided to go to graduate school to help coach meat judging. His master's research compared highly and lowly marbled cattle RNA to evaluate gene expression.
He continued his Ph.D. in meat science at the University of Illinois to coach the meat judging team, teach the meat animal evaluation class, and coach the meat animal evaluation team. For his Ph.D., he researched polymorphism and IGF2 and the impacts on skeletal muscle in Berkshire pigs. He did his postdoctoral research at Ohio State in muscle biology of chickens and turkeys. Today, Daniel works at Certified Angus Beef as a Meat Scientist. He enjoys educating the public with his job. His favorite cut of meat is a sirloin flap.