No dairy background or experience is needed to enroll.
Program length: 2 semesters
Format: Blended
The Illinois Dairy Science Certificate (I-Dairy) will not only introduce you to dairy cattle biology and management, but also provide you with a greater understanding of dairy cattle nutrition, mammary health, and livestock farm management. The courses offered in the I-Dairy program are structured to help students succeed in a wide array of dairy science and livestock production fields, whether that be working in the industry or attending graduate school or veterinary school. Courses also provide unique experiences unlike any other at the University of Illinois.
Much of the I-Dairy curriculum is focused on providing hands-on learning experiences. Students in the program will have the opportunity to attend classes at the University of Illinois Dairy Research Farm. Classes at the dairy farm provide unique experiences from learning how to properly handle large animals and experiencing dairy cattle behavior to milking cows on the farm. Additional classes will allow students interested in research to work side by side with professors in the Animal Sciences department to aid in or complete their own research projects.
I-Dairy Students will also have the chance to be a part of the Illini Dairy Judging and Dairy Challenge teams. Both programs allow students to represent the University of Illinois at collegiate contests around the United States. The Illini Dairy Judging Team competes in three contests in which the team evaluates dairy cattle for their phenotypic traits related to animal health and longevity. Dairy Challenge is a contest unlike any other in which participants learn how to evaluate production farms and provide strengths and opportunities to farmers about their operation.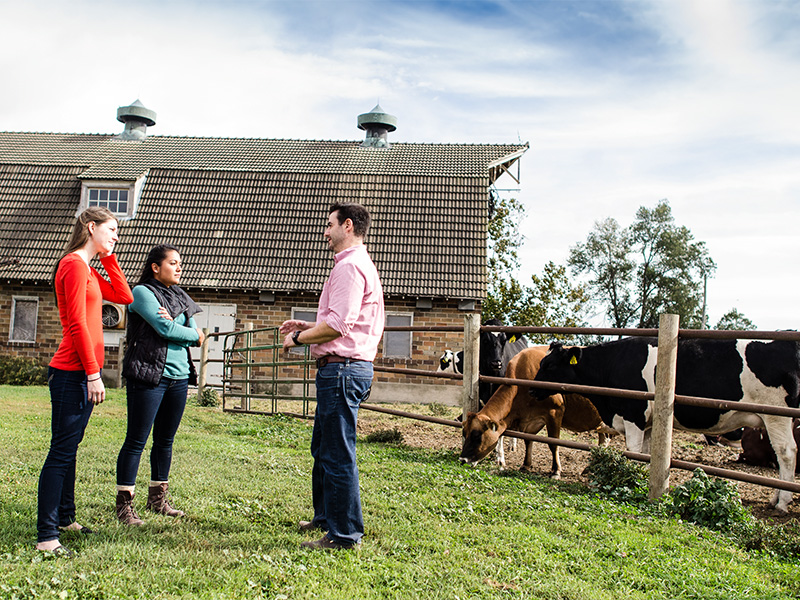 Coursework
Required courses:
ANSC 201: Principles of Dairy Production; 3 credit hours, offered Spring
ANSC 400: Dairy Herd Management; 3 credit hours, offered Fall
Elective courses (choose one):
ANSC 215 (Section C): Intro to Animal Evaluation; 2 credit hours, offered Spring
ANSC 398 (Section M): Dairy Challenge; 1 credit hour, offered Spring
ANSC 314: Advanced Dairy Cattle Evaluation; 2 credit hours, offered Fall
ANSC 420: Ruminant Nutrition; 3 credit hours, offered Fall
ANSC 438: Lactation Biology; 4 credit hours, offered Spring (online)
ANSC 499: Bovine Mammary Immunology and Milk Quality; 2 credit hours, offered Fall (online)
ANSC 499: Dairy Cattle Nutrition and Diet Formulation; 2 credit hours, offered Fall (online)
ANSC 522: Advanced Ruminant Nutrition; 3 credit hours, offered Fall
ANSC 593: Special Topics (*arrange with instructor); 1 or 2 credit hours, offered Fall and Spring
For more information, contact:
Dr. Derek Nolan
Teaching Assistant Professor, Extension Faculty Specialist